(Virtual) The Lenape Center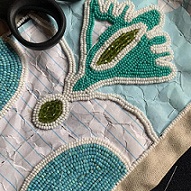 Via Zoom.
The Lenape are an indigenous people of the Northeastern Woodlands. Lenapehoking, the Lenape homeland, spans from Western Connecticut to Eastern Pennsylvania, and the Hudson Valley to Delaware, with Manhattan at its center. In this presentation, members of the Lenape Center, based in Manhattan, will discuss their work and Lenape history.
The Lenape Center has the mission of continuing Lenapehoking through community, culture and the arts. They push back against erasure and seed the ground with Lenape consciousness for the next generations.
Presented in conjunction with the Port Chester-Rye Brook Public Library and the Westchester County Historical Society.
Please register HERE to receive your Zoom link.
Related Events