(Virtual) Boredom Buster: Oreo Moon Phases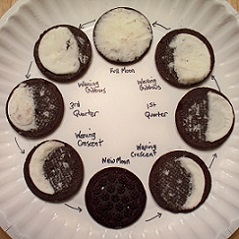 Via Facebook Live!  All Ages and Their Families.
It's Moon Week! Celebrate along with Miss Marie by making a phases of the moon project – out of Oreos!
Make sure you have the materials listed below.
Materials
Oreo Cookies or generic brand
Paper plate
Marker
Plastic knife, fork, or spoon (for carving out the moon phases)
Try this Phases of the Moon learning activity.
Related Events