(Virtual) Browsing Through History: The Story of Our Library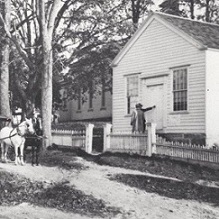 Via Zoom.
From its beginning chapter in 1799 to the rest of the story in 2021, learn how our Library has suffered the downs and celebrated the ups of our society, and benefited the citizens of Lewisboro for 222 years. Hear how reading options and services have changed during its lifetime and enjoy the tales the books and former librarians have to tell. Presented by Town Historian Maureen Koehl.

Please register HERE to receive your Zoom link.
Related Events