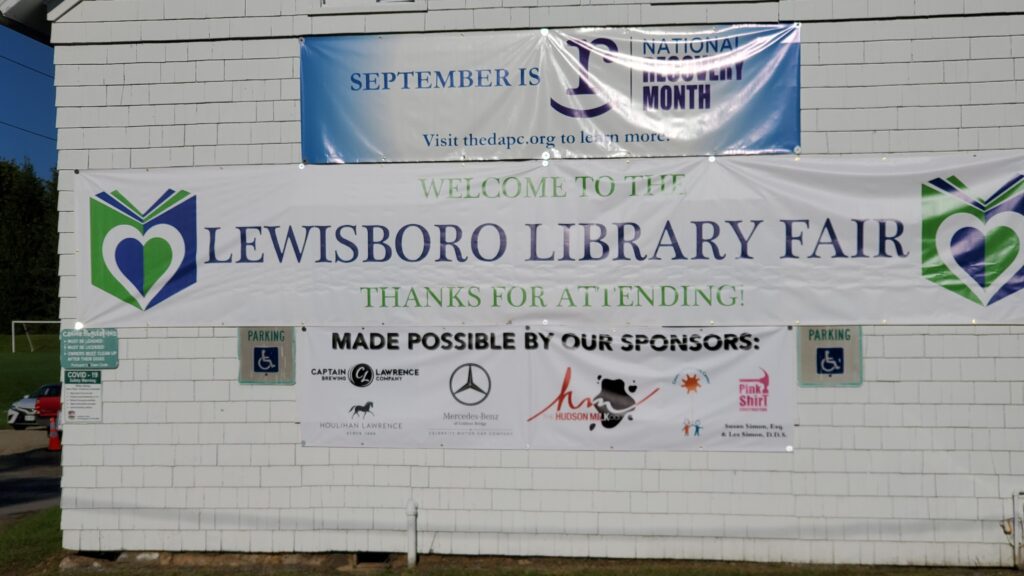 A letter from Jay Luzzi, President, Board of Trustees and Cindy Rubino, Director, Lewisboro Library:
FAIR THANKS!
The Staff and Library Board are so grateful for the support of those who made the September 18th Lewisboro Library Fairsuch a wonderful community fundraising event. We hope that everyone had a great time and enjoyed the surprisingly warm weather we had on Fair Day! As you know, all proceeds from this event are used to keep our Library open and operating as a community center – a hub of activity, learning and enrichment that is shared by people of all ages. We are so appreciative of all who helped us raise money, be it through sponsorship, in-kind donations, volunteer time – or those who attended and spent money that day!
A special thanks to the businesses who make the Fair possible by underwriting the cost of staging this event. They are: The Hudson Milk Company, Mercedes-Benz of Goldens Bridge, Captain Lawrence Brewing Company, Country Childrens Center, Houlihan Lawrence, Pink Shirt Construction, Susan Simon, Esq. and Les Simon, D.D.S., whose sponsorship helped underwrite the cost of the Fair, so more proceeds can go directly to the operating budget. Thanks also to Bill Mayer of Ingenuities, for always supplying delicious treats for our Bake Sale.
Our Library Fair is Lewisboro's largest community event, and could not happen without the collaborative efforts and generous contribution of time, energy and resources from local civic and charitable organizations, district and town resources, local clubs and individual volunteers. These volunteers are a loyal and generous group of individuals that have devoted endless hours, and often many years, to the organization and execution of the Fair. Their contributions will be acknowledged separately, in an upcoming Library mailing. This shared spirit, enthusiasm, and devotion to our Library is what makes this community so special!
Additional thanks and acknowledgement goes to the following:
Food/Beverage Donors: A big thank you to our local businesses that donated food and drinks for our volunteers to enjoy throughout the fair day! Dunkin' of Cross River, Lily's Deli & Market of South Salem and Green Way Supermarket of Cross River. Kudos to the individual baking enthusiasts who provided goodies for the Bake Sale Tent.
Silent Auction Donors: O2 Living, 121 Restaurant, Anderson's Pet Grooming, Apex Fitness, Marie Bancroft, The Bedford Sportsman, Beresford Landscape Design, Berger Appliance, Birdstone Farm, Rose Bonnano, Joe Bueti, Chris Carminucci, Aaron Collyer, Becky Conelias, Conte's Seafood, Copia Home & Garden, Horse & Hound, Hudson Milk Company, Jay Street Café, Locali, Mamma Rosa, Mardinos, Matt Morrissey, NetWorkWise, Lisa Rotundi, Kathryn Sabath, Sette e Venti, Stone Barns Center, Stretch Lab, Dean & Liza Travalino, Village Social and the Whitlock.
Volunteer & Civic Organizations: Vista Volunteer Fire Department, Lewisboro Volunteer Ambulance Corp, Scout Troop 1 (Lewisboro), Troop 101 (Vista) and KL Troop 301; Lewisboro Garden Club
Services/Equipment: Katonah-Lewisboro School District; Lewisboro Police Department; Joel Smith and the Lewisboro Town Maintenance Department; Peter Parsons and the Lewisboro Town Board; the Lewisboro Parks and Recreation Department; Creative Face Painting
Fair Committee Chairs (2021): Fair Chairperson Julie McCaffrey, Alison Biddle, Alison Edgar, Kathleen Fay, Kevin Fitzmartin, Maureen Koehl, Maggie Liegey, Priscilla Luckow, Jay Luzzi, Colleen McLafferty, Harold Ossher, Timi Parsons, Karen Paul, Peggy Pryor, John Rubino, Rich Sklarin, Dean Travalino, Jesse Weiss, and Susan Zepp
Please join us in supporting all of the generous organizations who made this Fair possible!
A heartfelt thanks, once again, to all our Fair and Library supporters. Please stop in to enjoy the wonderful programs and services that the Library offers, and stay connected via our email blasts and social media for ongoing Library updates. We look forward to seeing you at the next Lewisboro Library Fair!
Jay Luzzi, President                                                                            Cindy Rubino, Director
Lewisboro Library Board of Trustees Lewisboro Library
Here are Some Wonderful pictures from the Fair!