The annual Lewisboro Library Fair will be held on Saturday, September 18, 2021. The Library Fair is the largest community event in Lewisboro, attended by thousands of your neighbors and people from surrounding towns.  It is traditionally held on the third Saturday of September from 10 am to 4 pm at Onatru Farm, which is located at 99 Elmwood Road in South Salem. The date may vary some years depending on religious holidays. All proceeds from this event are used to keep our Library open and operating as a community center – a hub of activity, learning and enrichment that is shared by people of all ages. We are so appreciative of all who help us raise money, be it through sponsorship, in-kind donations, volunteer time – or those who attend and spend money that day!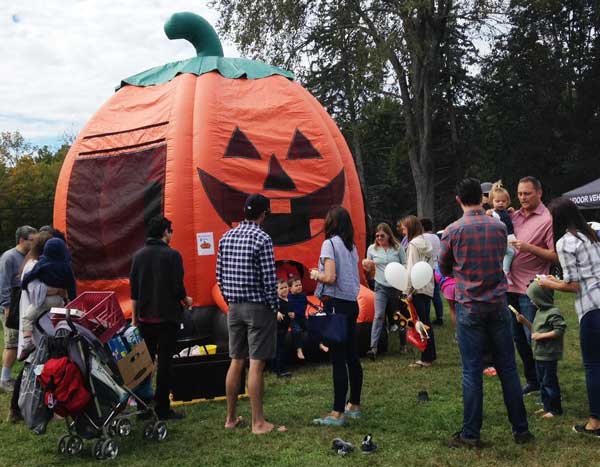 The Fair has something for everyone – games, music, a car show, food trucks & booths, a Beer Garden and tons of shopping at the Book Sale, Attic Treasures and vendor booths.  The shopping starts at the Pre-Sales held the Thursday and Friday prior to the Fair and continues into Sunday with an After-Sale.
Fair Volunteers
The Fair will be celebrating its 60th anniversary in 2021 and big things are planned to commemorate this event. To help create the best Fair ever, we need volunteers both before and on Fair Day. If you can help collect donations at Onatru on Saturday mornings in August or work at the Book Pre-Sale or Fair, please sign up online or at the Library
Vendor/Community Groups
Do you have a small business selling jewelry, crafts, home services, etc.? Showcase your business at this popular Fair. The Library Fair has a limited number of vendor spaces for $80. Spaces are also available free of charge to non-profit community organizations. Please check back in June for detailed information on reserving a vendor space.
Sponsorship
The Library needs the support of local businesses and individuals to underwrite the costs of producing the Fair, such as tent rentals, food and music, so more proceeds can go directly to the operating budget. Sponsors will have their logo featured on the Fair's welcome banner (shown above). If you are interested in being a named sponsor, please call Library Director Cynthia Rubino at (914) 875-9004.
Books and Attic Treasures
Donations of books and items for the Attic Treasures Sale are accepted on Saturdays in August. Donations can be dropped off at Onatru Farm from 10 am to noon on these days only. Books must be in good condition (i.e. no mildew). No condensed books, text books, encyclopedias, small paperbacks or magazines. For Attic Treasures we are seeking gently used furniture, bicycles, artwork, kitchen and sports equipment. Items MUST be in good working condition. We do not accept children's toys, videotapes, upholstered/oversized furniture, computers and accessories, bedding, window treatments and accessories, air conditioners, dehumidifiers, mini refrigerators, televisions, stuffed animals, downhill skis or exercise machines.