The Lewisboro Library's Mobile Printing Service lets you print documents, photos and more from your own computer or mobile device, whether you are inside the Library or at a remote location.
Use one of the following options:
OPTION #1: Webportal
Send print jobs via a webportal by using the following link: https://www.printeron.net/wls/sou
You'll be brought to the following page: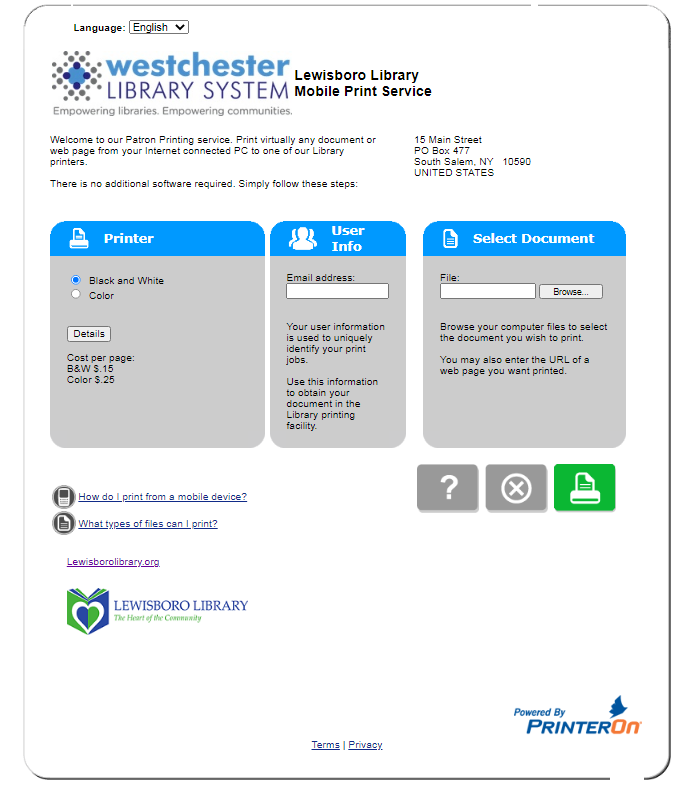 Choose the radio button for B&W or Color, enter your email address and select a file from your computer.
OPTION #2: PrinterOn App
Install the PrinterOn App on your:
Important – When using the "web" button within PrinterOn App, font size may increase, resulting in more pages being sent to the printer.
OPTION #3: Email
Print an email or attachment by emailing to the following address: [email protected]
How to Retrieve Your Print Job:
Print jobs can be picked up at the Self Serve Station next to the public printer. Your print job will be held in the print queue until you arrive and verify its release. On the Self Serve Station screen, select "Release a Print Job." Enter the email address you used to send your print job. Select "Print."
Important – Print jobs will only be held in the print queue for 4 hours, so please pay attention to library operating hours.
Cost: $0.15 per page for black and white or $0.25 for color.
Patrons with Windows PCs who use this service frequently can streamline the printing process by downloading and installing the PrintWhere Driver on their computer.