(Virtual) Grab-n-Go Paper Fortune Cookie Valentines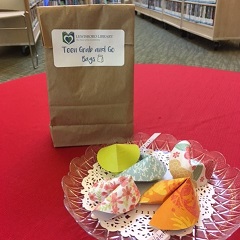 Via Facebook & Instagram.
Teen Librarian Jane Rothschild is offering Grab-n-Go craft kits for teens. This first one has the materials to make cute paper fortune cookies for friends and family.
Kits can be picked up in the Curbside Vestibule. Get your kit, then tune into Jane's instructional video on February 3 (or watch at your leisure). What a great way to use your creativity, relax, and spread some good vibes on Valentine's Day!
Grab-n-Go craft Kits are limited – get yours today!
Related Events