(Virtual) Can the US Constitution keep pace with 21st-century America?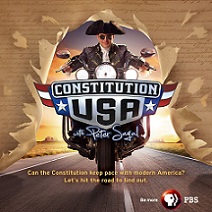 Via Zoom. For Teens, but Adults Welcome.
The Lewisboro Library is partnering with the IDEA (inclusion diversity equity) committee of the Town of Bedford and all the public libraries in the Katonah-Lewisboro and Bedford school districts to offer this special program during the school spring break. Participants must watch the designated episodes of the PBS series "Constitution USA" and then participate in the 2 discussions centered around them. The Zoom sessions will also be divided up into a teen group and an adult group. High school students can earn 10 hours of community service credit for participating in the discussions designed to enhance civic education, while taking a virtual "road trip" across the country.
Participants will view episodes of the PBS docuseries with Peter Sagal titled "Constitution USA" online at their own pace, then join in the two Zoom session discussions.
SESSION ONE – Monday, March 29 @ 7-8pm
Episode One: "A More Perfect Union" & Episode Two: "It's a Free Country"
SESSION TWO – Thursday, April 1 @ 7-8pm
Episode Three: "Created Equal" & Episode Four: "Built to Last?"
Registration is FREE but required for participation. Click HERE to register.
Related Events