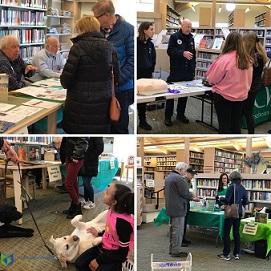 Give back to your Community! This annual event (now in its 15th year!) pairs would-be volunteers with local agencies in need of help. After two years as a virtual event, we are back in person at the Library.
Please take the time to stop by and speak with representatives of local groups who will have tables at the Library with information on their services and volunteer needs. There are volunteer opportunities for adults AND teens.
Drop in on our "Helping Hands" station and make items to donate to nonprofits.
Participating Groups Include:
Bedford Audubon * Comprehensive Master Plan Steering Committee * Equity 4 All Lewisboro * Guiding Eyes for the Blind * Katonah-Lewisboro Girl Scouts * Lewisboro Celebrates Pride * Lewisboro Garden Club/Golden Roads * Lewisboro Land Trust * Lewisboro Library & Fair * Lewisboro Open Spaces & Preserves/Trail Volunteers * Lewisboro Seniors/Meals on Wheels * Lewisboro Sustainability Committee * Lewisboro Town Historian * Lewisboro Volunteer Ambulance Corps * RideConnect * Rock 'n Rescue * Transportation Resources Access (TRA)
If you missed the Fair, but want to become a volunteer, click here to download the contact sheet and volunteering opportunities for all the organizations who took part this year –  Volunteer Fair Contacts 2023. Copies are also available at the Library.