What is the Oblong?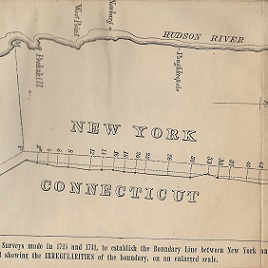 Presented by Town Historian Maureen Koehl, in-person at the Library.
What or where exactly is The Oblong? Get the facts and background on this disputed area of land delineated as 20 miles east of the Hudson River and extending from Long Island Sound to the Massachusetts border. It includes land traded between the New York and Connecticut colonies beginning in the 18th century and finalized in the 20th century. What was it like to be traded back and forth between colonies? What part of Lewisboro was included in the Disputed Lands? Which colony was the winner? This program will try to answer some of these questions  – and maybe elicit new ones.
Space is limited and registration is required. Please register below. This event is currently scheduled to take place in person. If rising COVID numbers cause restrictions on indoor gatherings, the program will be virtual and we will send you the Zoom link.
Tickets are not available as this event has passed.
Related Events