(Virtual) Victory Garden Talk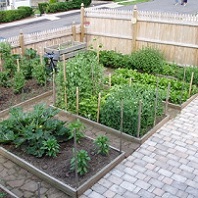 Via Zoom.
Bracco Farms, a sustainable family farm located in Pine Island, NY, presents this talk on the Victory Garden model, which was so successful during both world wars. Hear about their experience in finding joy, satisfaction and security in growing their own food.
This virtual discussion will focus on: Siting the garden, soil preparation, fertilizing and watering, suggested crops, tools to use and where to source them, safe seed sources and extending the season to enjoy your garden longer.
p.s. Don't have enough land? Did you know Lewisboro has a Community Garden at Onatru Farm? The garden is completely fenced, and contains 24 raised beds and about 30 ground plots. The plots are available to Town residents at no charge; instead, gardeners are asked to 'pitch-in' with their time and labor, as needed. All tools and equipment are supplied by the three who manage the garden: Goldie Robataille, Bonnie Shaver & Jay Luzzi. Plots are going quickly, so if interested please email Bonnie Shaver at bshaver@mbi-inc.com or brshaver@earthlink.net.
This program is presented in conjunction with the Bedford Free Library. Register HERE to receive your Zoom link.
Related Events