(Virtual) The History of Slavery in Lewisboro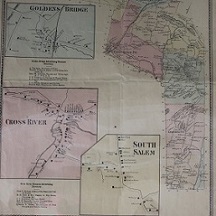 Registration is now FULL for this program.
Via Zoom.
Did you know that South Salem was previously known as Lower Salem, to distinguish it from adjacent North Salem? North Salem and Lower Salem were, prior to 1783, contained within the larger town of Salem.  Lower Salem was home to several prominent slave-holding families in the early 19th century, as well as those with indentured individuals. This program, led by Town Historian Maureen Koehl, will highlight those families and what we have learned about the people who labored for them, including the story of Old Tower, a freed slave. Maureen will also discuss whether Salem might have been part of the Underground Railroad as well as the timeline of New York's abolition of slavery.

Related Events