(Virtual) The Connecticut Ghost Hunter: Favorite Cases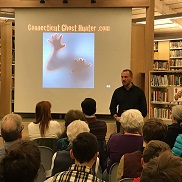 Via Zoom. For adults and teens.

Paranormal investigator Barry Pirro has investigated hundreds of haunted houses, businesses, and historic sites. He has also been a consultant for paranormal TV shows Ghost Adventures, Ghost Nation, Kindred Spirits, and Paranormal Survivor.
Join Barry as he discusses some of his most chilling cases of ghosts, demons, and haunted objects. In addition, hear real ghost voices recorded during ghost investigations, and watch an amazing video of a ghost captured on film. Participants will also have a chance to ask questions about ghost hunting, and to share their own true ghost stories.
Please register below to receive your Zoom link, which will be emailed the day before.
Related Events