(Virtual) Planting for Birds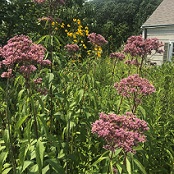 Via Zoom.
Attract and feed birds the natural way! Our Bird Friendly Backyards program generated so many questions about planting for birds, we invited Bedford Audubon Society Garden Director Mathew McDowell to go into detail on gardening with native plants to provide resources and habitat that birds require. With thought-out planting, you can provide resources to birds all-year long, and witness foraging and nesting behavior right from your window. 
Sponsored by the Lewisboro, Pound Ridge and Ruth Keeler Memorial Libraries.
Please register HERE for your Zoom link. The link will be emailed from Zoom as soon as you register.