(Virtual) Middle Reads: "Too Bright to See"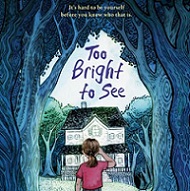 Via Zoom. For teens in grades 6 – 8.
Join us for monthly virtual book discussions and socializing! Books are available for pickup at the Library.
The book selection for June 8 is Too Bright to See, by Kyle Lukoff. In the summer before middle school, eleven-year-old Bug's best friend Moira has decided the two of them need to use the next few months to prepare. For Moira, this means figuring out the right clothes to wear and learning how to put on makeup. But this isn't appealing to Bug, who doesn't want to spend more time trying to understand how to be a girl. Besides, there's something more important to worry about: A ghost is haunting Bug's eerie old house … and maybe haunting Bug in particular. As Bug begins to untangle the mystery of who this ghost is and what they're trying to say, an altogether different truth comes to light – Bug is transgender.
Please register below to receive your Zoom link.
Tickets are not available as this event has passed.
Related Events