(Virtual) Food for 50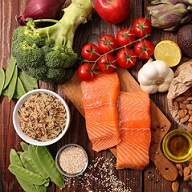 Via Zoom.
Nutritional needs often change with age. Discover online resources to help the "over 50" crowd find healthy recipes, locate a nutritionist, and identify diet fads and scams to avoid. Hear about nutrition programs available through the Center for Nutritional and Behavioral Health. Featuring guest speaker Erica Christ, a registered dietician.
Please register HERE for your Zoom link.
Related Events