(Virtual) Author Talk with Fiona Davis
November 1, 2020 @ 4:00 pm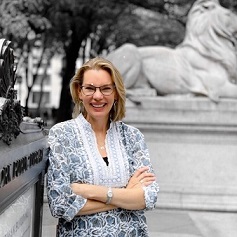 Via Zoom.
We are very excited to host this virtual discussion with best-selling author Fiona Davis!
Ms. Davis is the New York Times best-selling author of historical novels (The Chelsea Girls,The Address) set in iconic New York City buildings.
Her new book, The Lions of Fifth Avenue, is an intriguing mystery set in the New York Public Library. The novel alternates between the perspectives of Laura Lyons, wife of the library's superintendent in 1913, and Sadie Donovan, a curator at the New York Public Library in 1993. The women are connected by the library – and more. A fascinating glimpse into the roles of women in those time periods as they deal with career, family and sacrifice. For history buffs, it is also a wonderful behind-the-scenes look at the inner workings of the library itself, with its hidden dumbwaiters, pneumatic tubes and an apartment that housed the superintendent and family.
Please register below to receive your Zoom link, which will be emailed the day before.
Tickets are not available as this event has passed.
Related Events