(Virtual) Author Talk: The Book Smugglers: Partisans, Poets, and the Race to Save Jewish Treasures from the Nazis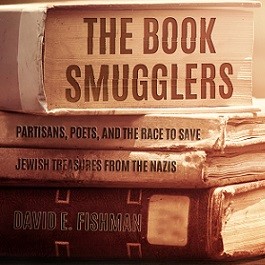 Via Zoom
Would you risk your life to save literature and art? Professor David Fishman of The Jewish Theological Seminary will discuss his book The Book Smugglers: Partisans, Poets, and the Race to Save Jewish Treasures from the Nazis. The book tells of the heroes of the Vilna ghetto who rescued art and literature from the Nazis. It is a stunning true story of heroism, resistance, spirit and romance.
His book has been hailed as has been hailed as "Monuments Men for book lovers" and "first rate scholarship that pulses with the beat of a most human heart."
This is a joint program with the Pound Ridge, Bedford and Chappaqua libraries, hosted by the Ruth Keeler Memorial Library in conjunction with the generosity of Ruth and Gerry Fischbach.
Please register HERE to receive your Zoom link.
Related Events