Outdoor Book Discussion: "Braiding Sweetgrass"
October 10, 2022 @ 11:00 am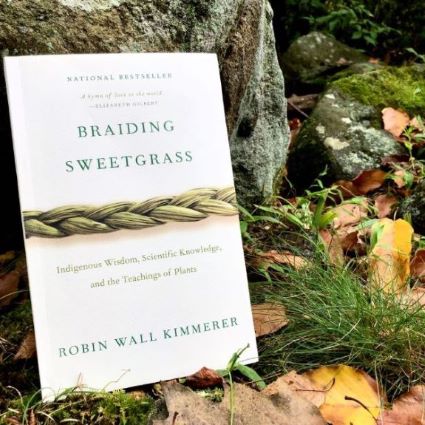 In honor of Indigenous Peoples' Day, Lewisboro Land Trust and Lewisboro Library are pleased to co-host a book discussion about the bestselling book, Braiding Sweetgrass: Indigenous Wisdom, Scientific Knowledge and the Teaching of Plants by Robin Wall Kimmerer. The discussion will be held outdoors at the Mount Holly Preserve.*
Kimmerer, a botanist and member of the Citizen Potawatomi Nation, draws on her life as an indigenous scientist, mother, and woman to examine modern botany and environmentalism through the lens of the traditions and cultures of the Indigenous peoples of North America. Through a series of personal reflections, the author explores the connection between living things and human efforts to cultivate a more sustainable world. Reading the book is recommended, but not required for this discussion.
Physical copies of "Braiding Sweetgrass" are available at the Library, or as a free eBook or audiobook on Hoopla and Libby, using your library card.
Space is limited and registration is required HERE.
* We will meet at the Mount Holly Preserve entrance located diagonally across from 21 Mount Holly Road EAST, Katonah and then walk together for about a quarter mile to a woodland clearing. There are a few log seats available in the clearing, but attendees can also bring their own seat — a blanket, cushion, beach chair, camp chair — or any other props for additional comfort during the seated discussion. Steady rain or other inclement weather will move the discussion to the Library – this will be communicated to registrants by email.
For more information about the preserve, visit https://lewisborolandtrust.org/indian-brook-assemblage.