hoopla is the leading all-in-one digital library app, with over 800,000 titles – from best-selling novels to niche, hard-to-find content, hoopla has something for everyone. hoopla lets you instantly borrow eBooks, audiobooks, comics, music, movies & TV – 24/7 and FREE with your library card.
What can I borrow?
hoopla titles are always available. There is a wide variety of content on hoopla. With the 10 items you can borrow each month, you can chose from eBooks, audiobooks, comics/graphic novels, music albums, TV shows or movies.
Each cardholder can borrow up to 10 items per month.
Borrow limits reset at midnight on the first day of each month.
Movies and TV episodes are available for 72 hours (3 days) from the time you borrow the title.
Music albums are available for 7 days.
Audiobooks, comics or graphic novels & eBooks are available for 21 days.
What do I need to get started?
Before using hoopla, you'll need a library card and an email address.  If you don't have a library card, apply for one online at https://lewisborolibrary.org/about/library-cards/
When signing up for a new hoopla account:
Enter your email address and confirm
Create a password and confirm
Enter your library card number (without spaces) and PIN (typically the last four digits of your phone number)
Select Westchester Library System as the library name
What devices can I use?
Items can be streamed or downloaded on your computer, iOS, Android, Kindle Fire, Apple TV, Fire TV, Chromecast or Roku device. Instructions for using hoopla on various devices can be found HERE.
Any other tips?
Items can be renewed before they are due. Renewing an item will use one of your remaining borrows for the month.
You can return an item early. Returning an item early does not give you additional borrows for the month.
Once an item is fully downloaded, you can play the title without a Wi-Fi connection.
Click on "Aa" to access the Reader Settings menu. While reading an eBook, use this menu if you want to adjust the text, formatting, or color of the page.
While playing the audiobook, be sure to select the MENU to gain access to all of the player controls. Tap the "1.0x" text under the volume slider to change the speed of the audio. By default, your book will play at 1.0x speed, but hoopla also offers .75x, 1.25x, 1.5x, 1.75x, and 2.0x playback speeds.
Hoopla KIDS mode offers a kid-friendly setting for finding views, music, and books. Just select the KIDS icon in the top right of the hoopla app or website to get started. When you're ready to turn off KIDS mode, tap the KIDS icon again.
Browse curated categories to discover new titles you'll love. First select your desired format (audiobooks, movies, music, comics, ebooks, or television), then select categories (on the website) or genres (in the app) to find a list of topics to explore.
Keep a list of the titles you want to download later. Select the heart icon on a title description page to add the item to your favorites list.
Access your My Hoopla account. You can manage your personal profile details, see what's currently borrowed and see your Favorites and History.
During COVID, hoopla is offering BONUS Borrows. These titles do not use the monthly borrowing allotment.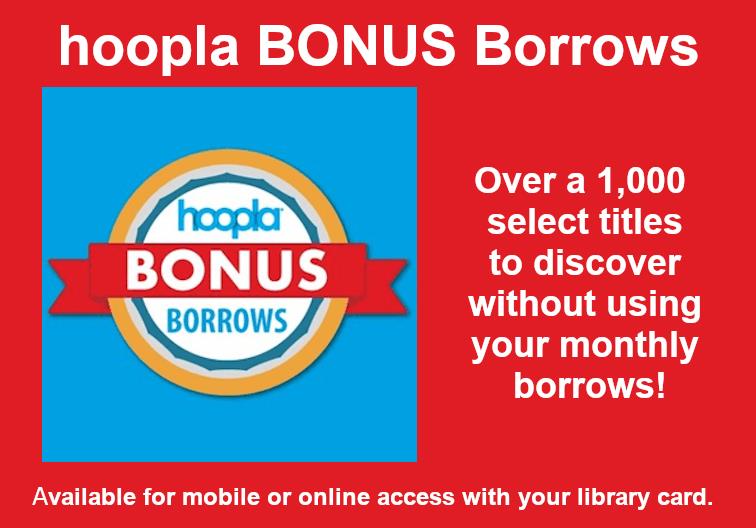 Questions?
Go to https://www.hoopladigital.com/help to learn more about getting started and for help troubleshooting. You can also call Lewisboro Library at 914-875-9004. We'd be glad to help!